അയ്യപ്പ ഭക്തര്‍ക്ക്‌ വായിക്കുവാന്
Posted 26 January 07 under Temples.
ഞാനും ഒരു ഹിന്ദുവായി ജനിച്ചതുകൊണ്ട്‌ ഹൈന്ദവ ദൈവങ്ങളെ ആരാധിക്കുന്നു. എന്നുവെച്ച്‌ കള്ളത്തരം കാട്ടി ഭക്തന്മാരെ സൃഷ്ടിക്കണമോ? മകരജ്യോതി സര്‍ക്കാര്‍ കാശ്‌ ചെലവാക്കിച്ച്‌ സൃഷ്ടിക്കണമോ?
കലാകൌമുദിയില്‍ ടി.എന്‍.ഗോപകുമാര്‍ എഴുതിയത്‌
ചിത്രം ക്ലിക്ക്‌ ചെയ്ത്‌ വായിക്കുക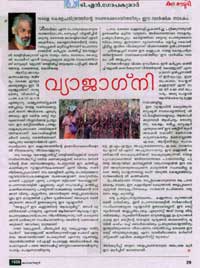 Source: http://chandrasekharannair.wordpress.com/2007/01/25/gods-own-country/
Blog by Kerala Farmer - Chandrasekharan Nair.
The truth according to Wikipedia:
"Makara Jyothi" in fact is an artificial fire (burning a large quantity of camphor cubes kept in a silver platter)lighted by the officials of Kerala Forest Department and the authorities of Sabarimala temple and the Travncore Devaswam Board in connivance with the Police Department of Kerala State and the Government of Kerala.
Ponnambalamedu where the camphor-fire is lighted is situated on the hills facing the Sabarimala temple and is in the control of the Forest Department of Kerala State. On the evening of the Makara Sankaranthi day, the officials of the above referred departments assemble at Ponnambalamedu and enact a Puja. After the Srikovil (sanctum sanctorum) of the Sabarimala temple is opened at around 6.30 PM, a message is sent from Sabarimala to those performing the puja at Ponnambalamedu. (In 1981 when the activists of Kerala Yukthivadi Sangham witnessed the event, the message was sent by flashing a search-light from Sabarimala; they must now be using a more advanced means of communications such as a mobile phone). Soon those stationed at Ponnambalamedu light the campher kept in the platter and lift it three times. (In 1981, the camphor was lighted by Gopinathan Nair, a driver with Kerala State Electricity Board).It is this flame that appears to the devotees as the divine Makara Jyothi. Since the Sabarimala temple itself is situtated on yet another hill opposite Ponnambalamedu and about hundreds feet beneath it, to a person witnessing the jyothi from the surroundings of the Sabarimala temple, it appears as celestial and miraculous. And, every effort is made by the authorities of Sabarimala temple and the Government of Kerala to perpetuate the belief that the Jyothi is indeed miraculous.
Read more here http://en.wikipedia.org/wiki/Makara_Jyothi
And if you want to watch the "divya Jyothi" .. see it below
18237 Reading(s)
Commenting is closed for this article.