Yesterday one more Russels Viper (Anali pambu അണലി )  Rescued and Released by S.Guruvayurappan of WPSI .
Due to increased awareness of people to save the snakes In the past two months about a Dozen snakes are released by
wildlife Protection society of India
– New Delhi, South India Chapter.
Snake was found inside Chittur Thaluk office Premise. It was kept in a sack by some youths . They said that the snake was found laying in the compound upside down. The stomach was full. The snake  was in unconcious state as there was no response from the body. Later with the concurrence of Forest department, it was released in an uninhabited stream side in a distant place. At releasing time, the snake  does not have conscious. So while observing for about half an hour, there was some movement for sensing the atmosphere by its tongue and was taking some breaths, it went inward to the stream.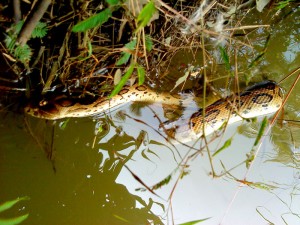 It is to be noted that, now a days more number of such incidents are happening due to rampant use of pesticides in the farmlands. When the pests are either killed or poisoned, they are consumed by its predators like frogs and birds, In the next stage, these frogs are consumed by snakes that results intake of heavy doze of  pesticides leads to either end of the food chain or causing imbalance its fragile ecosystems. some times such snakes are eaten by peacocks also that may result to the death of our national birds or kites. In the whole stage,thousands of life forms in agro- biodiversity is being lost every day. Same way the toxicity is reaching to human beings also.
so we all should be alert to protect our agro-biodiversity and ourselves. All the incidents are incorporated in our Agro-wildlife study and detailed report will be prepared.
You too can  protect such wildlife by intimating Either Forest department or us . Mobile  number is 9447700321