Road repairs started here in Tattamangalam after a long wait.
Roads in the municipality is in very bad condition and just the sight of the Road roller gives a relief.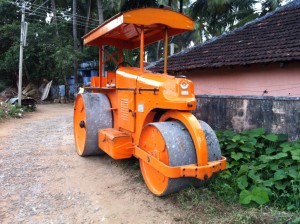 Repairs are already started at the following locations:
(1) Junction development near KSRTC – Chittur Puzha Bridge
The PWD authorities are facing some controversies here regarding cutting of 2 trees near the chittur puzha bridge.
(2) Sree Kurumbakavu / Mannathu Kavu road
(3) Thanchankulam – Thumbichira Road