I am so exhilarated upon seeing snaps of the lawn and garden at the Kollengode Railway station ( Code: KLGD). It is a station through which I have had many memorable train journeys to Trichy, Madurai and many pilgrim towns in the neighboring Tamil Nadu state during school days. Later on, I have traveled even from Chennai ( Egmore) by changing trains at Dindigul and Pollachi for my instant trips to/fro my village- Ayalur in Palakkad dist. In the valley of Nelliyampathy hills.

I would like to write here on the neglected Palakkad – Pollachi Rail section even after gauge conversion! Palakkad – Pollachi – Dindigul section is a 'Branch Line' that connects 'Trunk Route' at both ends, trains introduced through this rail link must have to cater to the needs of passengers who travel to/fro many towns and villages in the enclave. Trains are not introduced for 'Point to Point' trips between bigger cities/towns! Puthunagaram, Kollengode and Muthalamada are the nearest Railway stations for hundreds of daily passengers to/fro towns/villages with the famous temple, markets & trading centers, tourist destinations, heritage places etc. Kollengode was a busy station, almost like a busy junction during the days of MG trains.
Puthunagaram, Kollengode and Muthalamada stations will be convenient for passengers in the a big enclave of PGT-Thrissur districts covering many towns and villages in between the valley of Nelliyampathy Hill ( Western Ghats region) and Valluvandau regions in the banks of River Nila. Even passengers from Thrissur City and nearby places can board-on/alight from trains at Kollengode ( Oottara) or Puthunagaram station since they may find it convenient to travel by road for 2 hours ( by bus too ), the road route viz. Thrissur – Kollengode ( Thrissur – Mannuthy- Vadakkumcherry- Maudappallur – Chittilamcherry- 'Nemmara – Vallanghy' town – Vithanassery – Elavancherry – vattekkad – Kollengode/Oottara); and Thrissur – Puthunagaram ( Thrissur- Mannuthy – Vadakkumcherry- Alathur – Trippalur – Kunisseri- Koduvayur,- Puthunagaram , less than 5 km Tathamangalam/Chittur muncipal towns). Southern Railway must have complete data relating the passenger patronage of these two stations while Rameswaram and Madurai bound M.G trains were popular.. Kollengode station had a Reservation Counter then that enabled booking passenger reservation for accommodation in trains ( Seat/Berth) passing through Palakkad Jn.( Olavakode) as well under 'Station Quota' earmarked for Kollengode. Now this Reservation Counter must be restored at the Kollengode station as early as possible.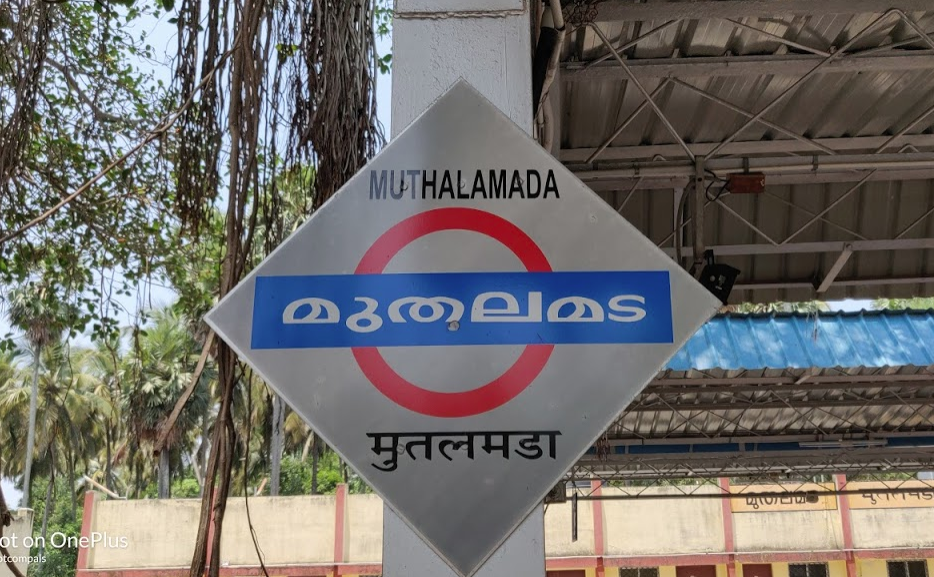 Pilgrim and business passengers would have delighted if the much talked about and proposed Trains viz. Palakkad – Rameswaram ( on the lines of the previous MG Fast passenger Train ) as well as Mangalore – Rameswaram and Ernakulam – Rameswaram Trains are introduced now. In fact these trains were proposed by Palakkad division itself in July,2016. These trains were on the anvil even while the fresh Time Table comes out in in last year! If there are serious constraints to introduce separate trains (to/fro Ernakulam/Mangalore- Rameswaram ), the pair train can be scheduled as a single train ( for amalgamation/bifurcation at Shoranur Junction). Passengers towards/from Guruvayur must be given connection train for the short journey of half an hour to/fro Thrissur. It is desirable that Palakkad- Rameswaram (Up and Down) train is introduced preferably as Late Night FP with SL and 3A bogies (drawing a parallel to FP train with SL during the MG era) to facilitate convenient and budget-travel to pilgrims from Palakkad district who are the majority in number among pilgrims of Kerala to temple towns like Palani, Madurai and Rameswaram. MoR must consider the introduction of the above proposed Rameswaram Trains in this year itself ( on the resumption of train service after lifting the Lockdown by Corona Crisis) if rakes are made available for the same.
Finally, after public protests, stoppages were granted at Kollengode and Udumalaipettai Railway station for the Amrita Express train (Madurai – Palakkad- Thiruvananthapuram to/fro)!. In fact, stoppages must be granted at at Puthunagaram – Muthalamada stations for the To/Fro Amrita Express . Similarly stoppages must be allowed at Puthunagaram- Kollengode – Muthalamada for the To/Fro Palakkad -Chennai Central SF EXpress as well, that ply via Pollachi- Palani, Dindigul, Karur, Namakkal – Salem- Katpadi. We know that this route is round-about but was introduced for the convenience of passengers ( after opening the Karur-Salem Railway line) between Karur and Salem – intermediate stations like Rasipuram, Namakkal and Mohanur. Had this train been introduced to run Via Dindigul – Trichy – Vriddhachalam -Villupuram – Cjengalpattu – Tambaram – Chennai Egmore , then this train would have become very popular for passengers to/fro Palakkad . It is to be noted that the Train No.22651 MGR Chennai Central – Palakkad SF EXp. ( MAS. Dep. 21.40 hours) passes through Kollengode (station Code: KLGD) at 09.44 hours on next morning and the Down Train – Train No.22652 Palakkad -MGR Chennai Central ( PGT Dep.15.00 hours ) passes through Kollengode ( KLGD) at 15.43 hours. Many passengers will opt to travel between Palakkad /Kollengode and Chennai especially for instant travel in these trains to/fro as reserved accommodation will be readily available while there will be no chance of getting 'reservation' in SF EXpress trains like Mangalore Mail or Alapuzha Express that ply via. the Chennai Central – Katpadi – Salem – Erode-Podanur Trunk route. Fortunately, stoppages at Udumalaipettai and Oddanchatram ( even at Akkaraippatti, between Dindigul and Oddanchatram; and at Chatrappatti, between Oddanchatram and Palani) were already given to the Chennai train while operating from/up to Pollachi prior to the extension towards Palakkad Jn.!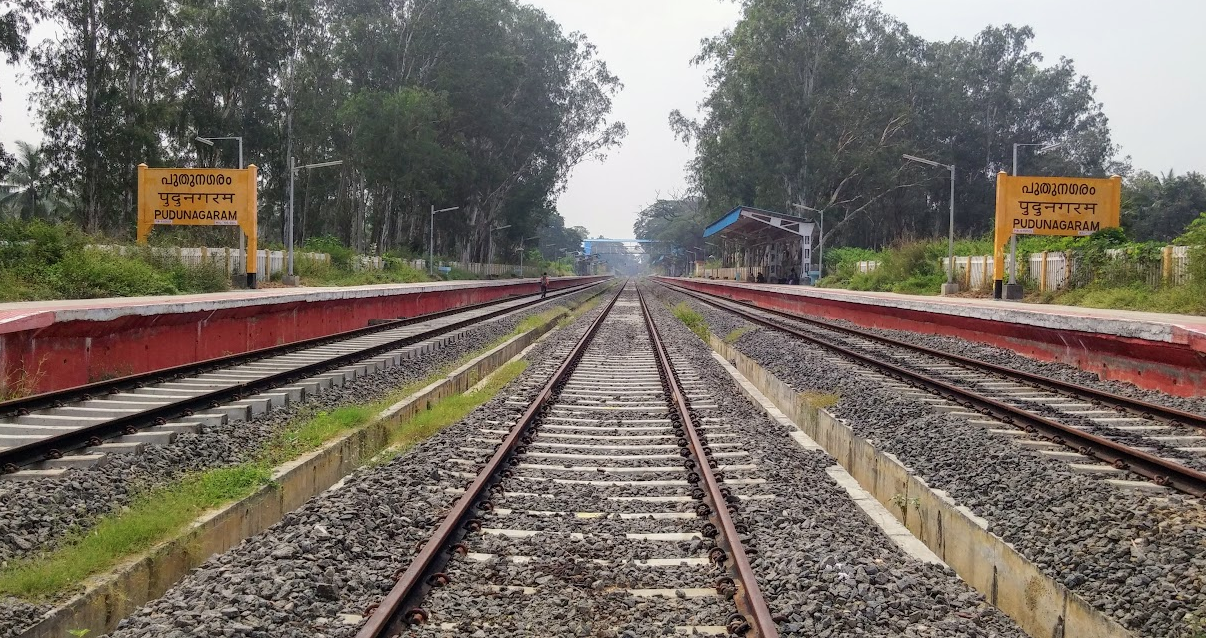 I would like put forth a fretful question to the Ministry of Railways since I have been advocating for the implementation of the Kollengode -Thrissur railway for the past three decades. Railway Budgets/ Union Budgets were silent on this long pending project, for quite a few years! The long-pending proposal of the railway line between Kollengode, the erstwhile tiny realm under the Cochin State and Thrissur, the city of pooram festivals is very much significant for the B.G conversion project in the Palakkad- Pollachi- Dindigul route aimed to facilitate the shortest route to temple towns of south Tamil Nadu from Malabar and Cochin regions of Kerala. A traffic survey for connecting Kollengode and Thrissur (B.G) was done during 1964-65 by the distinguished Padmashree P.N.Baskaran Nair (late) who simultaneously surveyed the Salem- Bangalore and Hassan Mangalore lines. In fact this was the second survey, as the initial survey conducted during the pre-independence period in mid-forties ( for MG Line then) already went unnoticed. Though the said line was resurveyed in the year 2007, it was resurveyed, afresh!
The proposed Kollengode – Thrissur rail link should never carry the tag of a branch-line while the rail connection establishes an inter-state 'chord-line' (89 k.m) from Pollachi to Thrissur, the Pooram City of Kerala. A direct rail corridor from Pollachi to Thrissur by-passing the busy Palakkad will be availed if the decades' long pending Kollengode – Thrissur railway line becomes a reality and will be useful for the faster movement of Containers between Tuticorin and Kochi Ports. Kollengode – Thrissur line can create a busy pilgrim rail route viz. Palani – Pollachi – Kollengode – Thrissur- Guruvayur with the potential to operate round the clock train services between Palani and Guruvayur to cover a distance of 176 K.m within four hours. Operation of both Express and Fast Passenger trains through Dindigul- Palani –Pollachi – Kollengode- Nenmara- Thrissur line connecting trunk-route rail-heads of Tamil Nadu and Kerala (Maduarai/Tiruchchi/Dindigul and Thrissur/Guruvayur/Ernakulam respectively) will enhance the potential for traffic earnings and optimum utilisation of rolling stocks.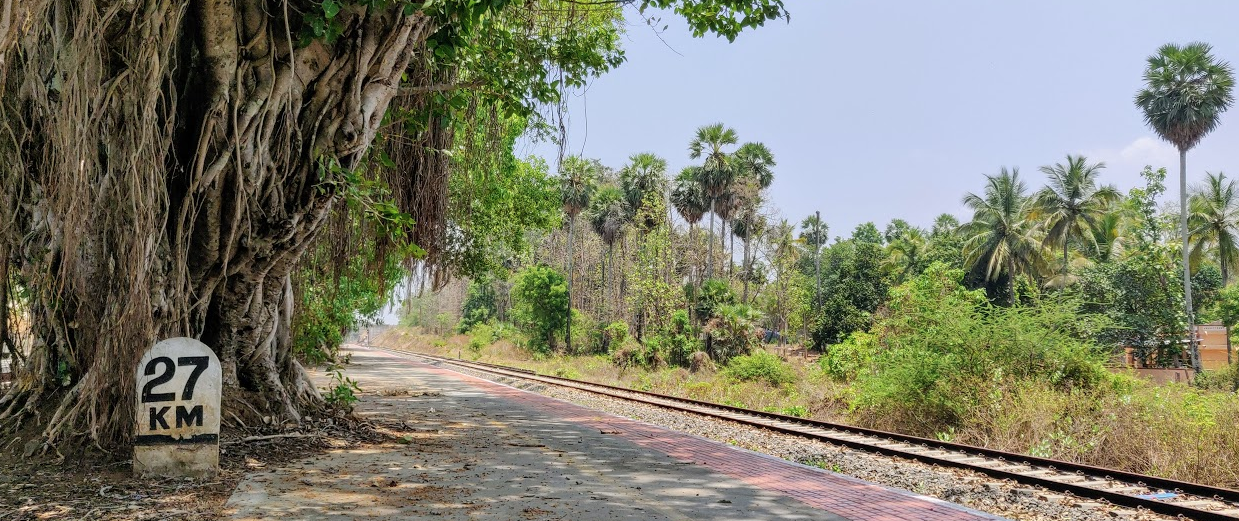 The Pollachi – Thrissur chord line will be advantageous for the tourism development of Nelliyampathy (Kerala), Valparai (T.N), Top Slip (T.N) Hill stations and many water reservoirs- Pothundy, Mangalam, Peechi,Vazhani, Malampuzha, Chulliar, Meenkara, Aliar, Sholaiyar, Kadamparai, Nirayar and Parambikkulam. Ultimately the Kollengode- Thrissur rail link will add value to the tourism potential of Hill stations mentioned above. If implemented, Nelliyampathy will be easily accessible to foreign tourists landing at Kochi, Kozikkode and Coimbatore airports as they can reach the entryway of the hill station – Nenmara town by a train. Similarly Valparai and Top Slip will be accessible through Pollachi via. Thrissur – Pollachi, Palakkad – Pollachi, Coimbatore – Podanur – Pollachi routes. Please note that there is a railway station – Anaimalai Road Railway station /Station Code: ANM [ for Anamalai Town, famous for the Masani Aman Koil / and towards Valpara and Top-Slip Hill stations] in between Pollachi Jn (POY) and Minatchipuram ( MXM) , which has stoppage for the Tiruchendur – Palakkad to/fro. Passengers ( T.Nos.56769 / 567770) towards Palakkad and Pollachi respectively.
It is very significant that the proposed Kollengode – Thrissur line passes through Nemmara (Nenmara), the gate-way of Nelliyampathy Hill- Station. The Nemmara- vallanghy vela festival, Vela and Radholsavam at Ayalur , a village 4 km away from Nemmara, Vela festivals in many other villages and Kanyar kali festivals in host of Baghavathy temples in the whole enclave adds value to Nelliyampathy Hill station with tea gardens, orange farms and cardamom estates. Kanyarkali festivals are performed in many temple premises from desk to dawn and it provides all ingredients of folk-dance-dramas that can attract intellectuals to laymen amongst tourists. It is not an exaggeration to say that during the festival season. In this enclave of festivals, not even a single day passes without a celebration involving processions by adorned elephants accompanied by drum recitals like Chendamelams, Panchavadyams etc. and colourful fire-works at least in a couple of temples during the months of March – April – May.
Nenmmara is connected by road with Palakkad, the district headquarters through two or three routes with distances around 20 k.m. Nemmara town in the valley of the hill station is actually lying in the middle of Pollachi- Govindapuram – Kollengode – Nemmara – Chttillamcherry- Mudappallur ( for Mangalam Dam)- Vadakkumcherry – Pattikkad –Mannuthy -Thrissur Inter- State route (merged with NH-47 at Vadakkumcherry) .The distances by road from Nenmara to Pollachi towards east and to Thrissur towards west are 49 k.m each. Pothundy Dam, just 6 k.m away from Nenmmara en-route to Nelliyampathy hill station is constructed at the start-off of 'Ayalur( Ayiloor) River', a sub-tributary of Bharathapuzha which is an ideal recreation location with gardens. Boat rides are offered in the vast reservoir to attract tourists. This dam is having a unique status as 'second largest in Asia without using cement-mixture'.
In future, the Thrissur- Vadakkumcherry – Nenmara – Kollengode – Pollachi- Podanur B.G.sections (129 k.m), will serve as an alternative route to the busy Thrissur- Wadakancherry- Ottapalam- Palakkad Jn. – Podanur Jn. (125 k.m) double-lined trunk section. Thus Southern Railways will find the rail route through the valley of Nelliyampathy hills as a 'third line' between Podanur and Thrissur. It enables to skip the traffic saturated Thrissur – Ottapalam – Palakkad section. Once the Guruvayur – Thirunavaya railway line becomes reality, the Pollachi- Kollengode – Thrissur- Guruvayur – Thirunavaya stretch will also enable operation of trains between cities and pilgrim centers of central Tamil Nadu and west-coast cities like Kozhikode, Kannur, Mangaluru and places beyond like Goa, Mumbai etc through Konkan line bypassing the busy Palakkad – Ottapalam- Shoranur section.
I wish for the immediate introduction of DEMU service between Dindigul and Guruvayur, through the present easy route via. Palani – Udumalpet- Pollachi – Kollengode – Palakkad Jn.- Ottapalam – Wadakkancherry – Thrissur. Apart from connecting two pilgrim towns – Palani and Guruvayur, a direct train between Dindigul and Guruvayur will facilitate passengers traveling between Malabar regions in Kerala/ Mangaluru and Southern districts in Tamil Nadu while Dindigul is major rail-head lying in the Salem – Karur- Dindigul- Madurai – as well as Chennai Egmore – VillupuramJn-Vridhachalam Jn.- Trichy Jn.-Dindigul Jn.-Kodai Road- Madurai Jn.- Rameswaram/Tutucorin/Tirunelveli/Tenkasi/Kollm – Nagarcoil – kanyakumari trunk routes. This train will be very much patronized by pilgrims/tourists traveling mainly between Palani and Guruvayur.
Madan Menon Thottasseri @ facebook
Palakkad Roads & Rials Youtube Channel